SECTION 02
(b)(i) List three rules used to locate images in curved mirrors
Hint diagrams: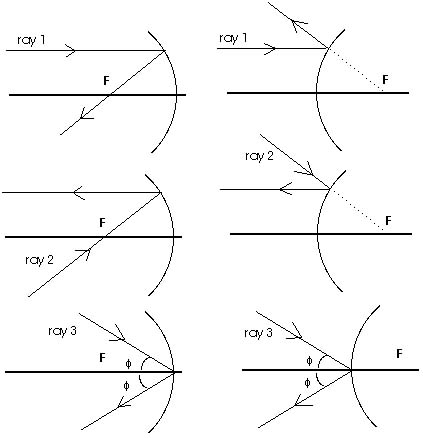 Path of rays for curved mirrors
Answer:
1. Any incident ray traveling parallel to the principal axis­ on the way to the mirror will pass through the focal point upon reflection.
2. Any incident ray passing through the focal point on the way to the mirror will travel parallel to the principal axis upon reflection.
3. Any incident ray forms an equal angle to the reflected ray on the tangent line at point of intersection between principal axis and the curved mirror.
(ii) Give two similarities and two differences that exist between the human eye and lens camera

Eye versus camera
SIMILARITIES
1. The shutter in a camera can be compared to the iris in a human eye. It controls how much light is able to enter the lens.
2. The lens in a camera is similar to the lens in the human eye, which are both used to focus light and create an image.
3. With a camera, an image is recorded on a film. In the human eye, the image is formed on the retina.
DIFFERENCES
1. Eye uses live cells to detect light while the camera uses a diaphragm to detect light and capture images.
2. Stereoscopic vision of eyes allows 3 dimensional images while camera captures only 2 dimensional images.
3. The pupil adjusts the size while focusing while in a camera lens moves to change focus.
4. Eyes have blind spots while cameras do not.